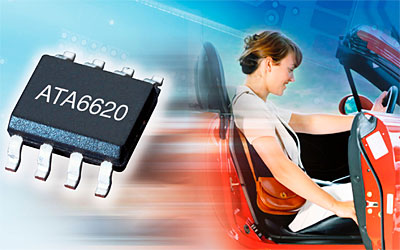 Atmel's new Local Interface Network (LIN) system basis chip provides outstanding ESD protection and low current consumption as required in automotive applications.
The current consumption can even be further reduced by the device's silent mode function that is unavailable in other LIN2.0 devices. Manufactured using Atmel's 0.8-micron BCDMOS process technology, the ATA6620 is optimized for operation up to 40 Volts and applications in harsh environments. This includes automotive comfort applications such as door modules, seat control or intelligent sensors.
The ATA6620 includes a fully integrated LIN transceiver according to the LIN2.0 specification released in September 2003, and a 5-V voltage regulator. The device interfaces the LIN protocol handler and the LIN bus. Improved slope control at the LIN bus ensures secure data communication of up to 20 kBaud with an RC oscillator for the protocol handling. To meet the 42-V powernet requirements, the bus output can tolerate short circuits of up to 60 V.
To ensure low current consumption, the device includes multiple operating modes: normal, silent and sleep. During silent mode, the transmission path is disabled, and the voltage regulator is able to supply a microcontroller in power down mode. In this mode, the supply current of the device is typically as low as 40 microampere, and during sleep mode only 10 microampere.
This low current consumption makes the device well suited for applications requiring cycling operation capability such as scanning switches or flashing LEDs with only a fraction of the usual average current consumption. "With this new LIN system basis chip, we're addressing the need to handle low-speed data communication in vehicles, for example in convenience electronics such as door modules and seat control," said Torsten Mann of Atmel. "This is the first of a series of new LIN2.0 devices. Further products will follow."
To minimize EMC problems, the ATA6620 incorporates a controlled slew rate according to the LIN specification 2.0. The receiver's input filter helps to reduce RF interference caused by signals on the bus line to a minimum.
The ATA6620 provides several protection features such as overtemperature shut-down, full protection against short circuits and high-voltage-bus-line protection up to 60V. It is fully compatible with 5V devices, and includes a dominant time-out function to prevent the bus line from being driven permanently in dominant state. A wake-up feature is implemented via the LIN bus line. The device also meets strict automotive qualification demands (protection against conducted interference, EMC and 6-kV ESD protection), and can withstand transients according to ISO/TR 7637/1.
Atmel designs and manufactures microcontrollers, advanced logic, mixed-signal, nonvolatile memory and radio frequency (RF) components.