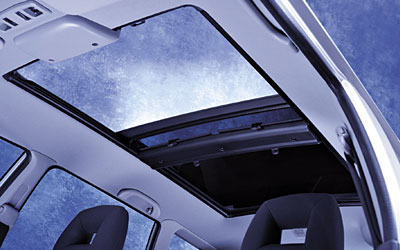 With the return of warm weather, thousands of sun- and sky-loving motorists will be in the market for the latest sunroofs. This leading vehicle option not only adds a fresh dimension to daily commutes and recreational driving, but increases the resale value of cars and light trucks outfitted with one.
Over 25 percent of new vehicles are now equipped with factory-installed sunroofs, with more added as options when new and late model used vehicles are purchased at almost any franchised auto dealership. This is according to Webasto, the world's largest supplier of sunroofs and thermosystems to the automakers (for factory installation) and the aftermarket.
With prices ranging from $399 to $1199 (including installation), there is a sunroof available to bring the sunshine and open sky into any vehicle on almost any budget.
This is according to Rolf Lichtner, director of marketing services at Webasto Product North America, the largest supplier of sunroofs to the North American passenger car and light duty truck aftermarkets.
Lichtner suggests that drivers in the market for a sunroof this spring might review these four, essential considerations if they have never owned a sunroof:
Types of sunroofs - Most sunroofs are either inbuilt or spoiler models. Inbuilt sunroofs are opened when the glass roof panel retracts and disappears into the thin cavity between the metal roof skin and passenger compartment headliner. Powered by an integrated electric motor, the glass panel opens, closes and also tilts up from front to back providing a venting effect. Spoiler-type sunroofs retract on sliding hinges, which create a stylish cantilever effect while fully uncovering the roof opening. Most spoilers vent by tilting up in the rear while still covering most of the roof opening. In an updated version of the original rough and ready canvas sunroofs popularized decades ago in Europe, a distinct looking, all-weather fabric sunroof which opens by folding neatly into three pleats is also available.
Roof opening size - Spoiler and inbuilt designs to fit roof openings ranging from 24 to 39 inches wide and 11 to over 30 inches long are available. No matter how small the roof surface, there is a sunroof to fit virtually any vehicle. For drivers looking for maximum access to the sky above, a new panoramic model featuring dual glass panels/roof openings is now available.
Safety, convenience, and lifestyle features -- A growing number of added features are available on most new sunroofs, including:
Automatic stop (activated by sensor-detected obstruction in roof opening).
Illuminated open/close switch with programmable roof positions and one-touch open, close and vent control.
Automatic roof close (activated by key turn-off).
Adjustable sunshade (to adjust entering light) color coordinated with interior.
Self-deploying wind deflector.
Rain sensor (closes roof when sensor detects raindrops).
Qualified, certified retail outlets and installation facilities - The sunroof industry's most popular units and brand names can be purchased and installed through your local new car dealer, if the roof is being added to a new or used vehicle at purchase. For other installations, the leading sunroof suppliers maintain national retail networks, with hundreds of certified dealers/installers in most North American markets, including several in the Detroit area. It makes good sense to shop at one of these stores, as they feature factory-backed products and trained, expert technicians and installers.
"We're seeing significant interest and excitement from car dealers and customers about the new panoramic models," said Brian Ingraham, general manager of Ideal Accents. Ideal Accents, which is located in Ferndale, sells and installs a wide range of sunroofs and other products for passenger cars, SUVs, minivans and pick-up trucks.
"Consumer interest in sunroofs has increased dramatically in the last five years, but these new, extra large units are getting a lot of attention," said Ingraham who oversees the sale and installation of over 400 sunroofs annually at Ideal.
"It's definitely a classic example of bigger is better and these panoramic models are markedly larger than anything we've ever offered," he said.
Webasto is one of the top suppliers to the automotive aftermarket. The company provides a wide range of sunroofs and other products including thermo systems, Tonneau covers, seat heaters and GPS navigational devices.