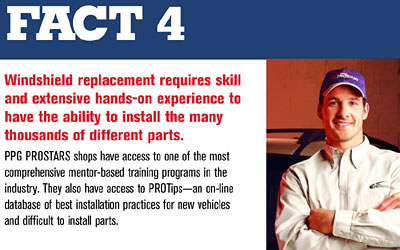 The windshield is a critical part of a vehicle's safety system. This and other facts are at the heart of "Know the Facts," a new educational campaign designed to inform vehicle owners, insurance agents and the companies they represent about the specialty nature of auto glass replacement and repair. The Leadership Council of PPG PROSTARS, a national alliance of independently owned and certified auto glass repair and replacement specialists, has initiated the campaign.
"As auto glass shop owners, our technicians tell us they see vehicles on a daily basis that reflect sub-standard windshield installation and poor quality repair," said Rick Robertson, leadership council member and vice president of Auto Glass of Indiana, Anderson, Ind. "We've initiated 'Know the Facts' to ensure quality, safety and customer satisfaction for car owners and the agents and insurance companies that serve them."
The windshield is classified as a vehicle safety device and is a structural part of every vehicle. In the event of an accident, the windshield enables the passenger side air bag to deploy properly and, in the event of a rollover, it minimizes roof collapse. In 2004 alone, PPG Industries estimates that 11 million windshield replacements will be installed, making auto glass claims the number one comprehensive insurance claim in the nation.
"Every industry is under pressure in today's economy," said Tom Lee, also a member of the PPG PROSTARS Leadership Council, president of Lee & Cates Glass, Inc., Jacksonville, Fla., and board member of the National Glass Association. "Profitability is getting tighter, and we're all looking for ways to do more with less. However, cutting corners on quality and safety isn't the way to go. Weather conditions dictate when I can send a technician out on a mobile job. Often the auto glass work should only be done in-shop. You've got to be able to give customers a choice and help them understand what is in their best interest."
As part of the "Know the Facts" campaign, PPG PROSTARS companies have developed a list of important facts about windshield repair and replacement for policyholders and the insurer:
The windshield is a critical part of a vehicle's safety system.
A policyholder may choose or select a specific shop for service.
Not all auto replacement glass is the same.
Windshield replacement requires skill and extensive hands-on experience to have the ability to install the many thousands of different parts.
A windshield is secured into a vehicle with sophisticated adhesive systems.
Weather dictates when a technician can perform repair or replacement work outdoors.
PPG PROSTARS is a marketing alliance of independently owned auto glass replacement and repair professionals. With shops across the U.S., PPG PROSTARS locations offer experienced, certified technicians, quality replacement glass and a national warranty.