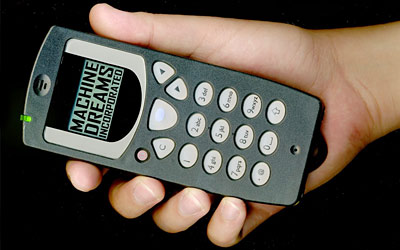 The Communicator audience response system from Machine Dreams is the first of a new category of interactive wireless devices designed specifically for rental at meetings and events. The device is a 2.4 ghz wireless personal computer with ten unique features:
Built In push to talk microphone and translation earphone
Smart Cards for registration and data tracking
Secure Voting with multiple choice and open ended questions
Instant Text messaging and Whiteboarding
Game Show and Team competitions
Memory for breakout room data capture
Powerful 2.4Ghz encrypted transmission
Real-time Multi-Site function links handsets from scores of locations
Logos can be displayed in its large LCD screen
Completely integrated with Powerpoint
The device is used by hundreds of corporations, associations and meetings and event organizations across the United States to enable their entire audience to instantly share its thoughts and ideas. At its New York City debut, The Communicator will be used at BizBash events to:
Conduct a formal vote using multiple choice
Collect key issues from the audience using the wireless microphone feature
Prioritize and rank key industry issues
Solicit ideas from everyone with instant text messaging
Track demographic differences by job title to key questions
Enable participants to compete for prizes with a custom game show
Machine Dreams is the exclusive US provider of The Communicator and the leading supplier of audience response services in North America.
The system is used at medical and legal symposia to engage the participants and extract knowledge and best practices. It is used at association and government forums to give attendees an opportunity to interact, share thoughts and ideas and vote. The Communicator is used at hundreds of corporate meetings to facilitate training, to entertain through game shows and indoor and outdoor team competitions, to rank and prioritize options and to offer opinions and ideas. It is also used as a testing device, a real time market research tool and a certified formal voting device.
The Communicator is capable of serving from 5 to 5000 participants at one time. Participants can be at a single location or can be spread out across locations throughout the world. The handsets are easy to use, have rechargeable batteries that last throughout the day, and have backlighting and an LCD screen for easy use in darkened rooms.