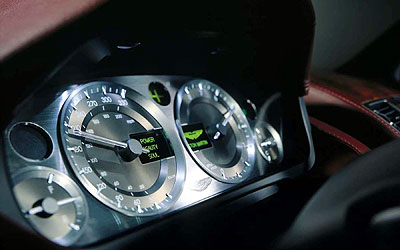 The new Aston Martin DB9 incorporates the first automotive application of the new display technology, Organic Light Emitting Diode (OLED).
Yazaki built the OLED technology into the DB9's instrumentation cluster (through a unique WatchDial styling) and infotainment control module. The benefits of using OLED technology include a high contrast ratio, low voltage and power consumption, cold temperature operation, a nearly perfect 180-degree viewing angle and a thin, lightweight construction. Prior to Yazaki's implementation of OLED in the Aston Martin, the technology had only been utilized in cell phones, digital cameras, and automotive aftermarket radios.
Yazaki has a long history of partnering with automakers to turn unique ideas and concepts into reality. With the DB9, Aston Martin wanted to pay particular attention to the appearance of the driver communication products. Having seen examples of Yazaki's innovative cluster stylings, as well as the work they were doing with OLED technology, Aston Martin challenged Yazaki to create an instrumentation cluster as unique as the DB9.
The WatchDial cluster face contains components that give the appearance of a brushed metallic look that was created by using in-mold metallic foil on plastic. Yazaki took special steps when creating this piece to ensure that the detail of the automaker's logo was captured on the final product. As a result, the distinctive Aston Martin logo is embossed on the foil that is then applied to the dial face.
When the unique WatchDial is lit, the tick marks appear as lit jewels. Each tick is part of a prism with vacuum deposition of aluminum onto the surface. The end of the plastic is then cut at an angle and inserted through the openings in the outer ring. Each overall dial is floodlit from above within the cluster.
As a final element of the cluster's cutting edge design, and as a further extension of the Aston Martin design team's vision, Yazaki also created a one of a kind tachometer needle. The speedometer has a clockwise movement, while in a break from the automotive norm, the tachometer moves counterclockwise.
In recognition of the innovative work done on the DB9's OLED instrument cluster, Ford Europe recently awarded members of the Yazaki and Aston Martin product design teams with the European Technical Achievement Award (ETAA).
Yazaki is a leading global supplier of vehicle power and data solutions to the automotive industry. Yazaki produces electrical distribution systems, fiber optics, advanced networking products, instrumentation, solid-state power centers, connection systems, and electronics.