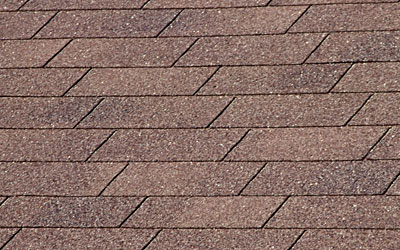 No matter how beautiful, durable or aesthetically pleasing an asphalt roof is, sooner or later it may need a pick-me-up. After 20 years or more sitting atop both residential and light commercial structures, eventually the effects of weathering kick in, and it may be time to consider re-shingling.
But how can consumers know when it's time to make that critical re-roofing decision?
The Asphalt Roofing Manufacturers Association (ARMA) recommends that homeowners or building owners take a few simple steps to determine if a residential or light commercial roof is ready for a face-lift. Here are some suggestions:
First, while on the ground, walk around the home or building with a pair of binoculars. The goal is to check the roof for cracked, curled or missing shingles. Also, it is important to notice whether any of the mineral granules are missing, because they act as a protective surface for the asphalt. While ARMA cautions homeowners not to climb on the roof, qualified roofing professionals -- exercising proper "walk-about" procedures -- may want to get a closer look. Other ways of inspecting a roof include looking at the underside of the roof deck and rafters for any stains or wet spots indicating water leaks. This can be done by accessing the roof attic and using a flashlight to inspect for signs of water penetration.
Once it's determined that a re-roofing plan is needed, the next step is to see if the roof has already had additional shingles applied. There are some local ordinances that prohibit putting more than a certain number of layers on a given roof structure, so it is always best to check those regulations first. In addition, on any re-roofing project, you should make sure the surface that is being re-roofed does not have: uneven surfaces for nailing, warped, rotted or unsound roof decks, or hard or brittle existing shingles.
Generally, most of the procedures used for new roofing applications apply to re-roofing projects as well. The industry, however, has come up with the following tips that will help assure re-roofing projects are successfully completed:
It is likely that roofs covered with asphalt shingles, asphalt roofing, or built-up asphalt roofing may be left in place for re-roofing. In some cases, slate or wood shingles may be roofed over. However, concrete or clay tile and metal roofing must be replaced. Check with the manufacturer for specific details.
Roof framing must be strong enough to support the additional loads, including the snow load expected in that location, plus the weight of the roofers and equipment.
If the deck has deteriorated to the point where it will not provide adequate anchorage for new roofing fasteners, it should be replaced.
Make sure proper flashing procedures are followed to maintain the integrity of the roofing. Be certain anchors are made of a non- corrosive material to eliminate the possibility of discoloration.
While asphalt roofing products provide many years of durability and beauty, they still need to be properly maintained. Here are some quick and easy ways to assure steep-slope asphalt shingle roofs always look their best:
Never paint or coat asphalt roofing to change its color or give the roof a "new" look. The use of paint or coatings may void the manufacturer's warranty. Consult the individual manufacturer.
Keep gutters and roof surfaces clear of fallen leaves, pine needles, twigs and other litter so that water will drain freely.
Never allow water from a downspout to pour directly onto a roof below. Connect an upper story downspout to a lower level gutter with drains installed on the lower roof.
Keep trees trimmed to prevent branches from scuffing the roof surface. Keep climbing roses, vines and ivy trimmed back from the roof.
When removing snow or ice from a valley or other roof area, do it carefully to avoid damaging the roof. For safety, use a broom or long extension pole. Never climb onto a wet or snow-covered roof.
Make annual inspections of the roof to evaluate its general condition and detect any potential leakage problems before they develop. The best time for an inspection is the spring after severe weather conditions (and the damage they may have inflicted) has passed. In addition, the weather will be ideal for repairs if they are necessary.
Inspect the underside of the roof deck from the attic to detect leaks. Flashings are the most vulnerable points. Therefore, inspect the underside carefully at all flashing points for evidence of leakage such as water stains. Remember that in cooler climates, water stains may be due to condensation as a result of inadequate attic ventilation.
Where problems are identified, make an actual on-roof inspection and perform any repairs that are necessary.
Keep walking on roofs to a minimum to avoid damaging the surface.
By following these simple, yet important tips, asphalt roofing systems will provide maximum long-term performance. And for all re-roofing projects, asphalt shingles can fit the bill by providing the looks and functionality to adorn a variety of steep-slope applications.