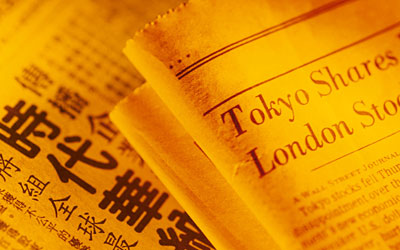 Asian markets ended mostly lower as Wall Street was closed for a national holiday on Monday. Japan's market fell heavily as an investigation for market abuse spooked investors, while Hong Kong's market fell in sympathy. Meanwhile, the Korean bourse dropped sharply on profit taking by institutional investors, while Taiwan's market ended slightly lower following the resignation of its Premier. Finally, the Australian market rose on strength in resources shares.
Tokyo's Nikkei-225 Index plummeted by 462.08 points or 2.84% to 15805.95, while Hong Kong's Hang Seng Stock Index dropped by 201.52 points or 1.28% to 15576.20. Korea's Kospi Index slumped by 32.21 points or 2.27% to 1389.58, while Taiwan's Weighted Index eased by 13.14 points or 0.20% to 6711.04. Australia's All Ordinaries Index rose by 31.40 points or 0.66% to 4817.30.
Japan's market fell heavily as news that prosecutors raided internet firm Livedoor sparked heavy selling from investors, while further downward pressure came from sales of technology stocks ahead of the release of earnings data from key technology companies in the United States. Losses were broad based, although technology stocks, retailers and construction companies took some of the heaviest hits.
Internet companies fell heavily on news of the investigation into Livedoor for misleading investors, with Livedoor plummeting sharply, while Softbank and Yahoo Japan also suffered torrid selling. Technology stocks were lower ahead of the release of earnings data from U.S. counterparts such as Intel, with Advantest, Tokyo Seimetsu and Rohm dropping heavily.
Retailers plunged, with Aeon, Marui and Isetan all falling sharply, while construction companies failed to avoid losses, with Kajima, Obayashi and Shimizu ending deeply in negative territory. Kirin was one of only eight stocks in the Nikkei 225 to record a rise after it announced plans to appoint managing director Kazuyasu Kato as its new president at the end of March.
Hong Kong's market closed sharply lower on profit taking as investors took note from the heavy falls in Tokyo. Property stocks were big losers, with Cheung Kong Holdings, Hang Lung Properties and New World Development all slipping, while banks also fell, with heavyweight HSBC Holdings declining and Standard Chartered retreating from Monday's gains.
In Korea, the key share index dropped sharply, with blue chip stocks subject to heavy selling as investors took profits. In the technology sector, Samsung Electronics, LG Electronics and Hynix Semiconductor all fell heavily, while ship builders and insurance shares were also down as brokerage houses Samsung Securities, Daewoo Securities and Woori Investment & Securities tumbled following recent strength.
Meanwhile, Taiwan's market ended lower as investors digested news of the resignation of the Premier Frank Hsieh and showed concern for the future direction of China policy. The heavily weighted technology sector was mostly lower, with flat panel makers AU Optronics and Chi Mei Optoelectronics falling heavily, along with contract electronics maker Hon Hai Precision Industry, which ended sharply lower. However, DDR2 chip makers rose on reports of a supply shortage and improving prices, with Nanya Technology and Powerchip Semiconductor both rising.
Finally, the market in Australia posted a steady gain on strength in resources stocks. Heavyweights BHP Billiton and Rio Tinto closed higher, with oils stocks rising, led by Woodside Petroleum, as oil prices climbed on supply fears stemming from Iran and Nigeria worries. Gold stocks remain in focus as the precious metal's price continues to tick upwards, with Newcrest Mining and Lihir Gold enjoying strong gains.
Report provided by Thomson Financial.