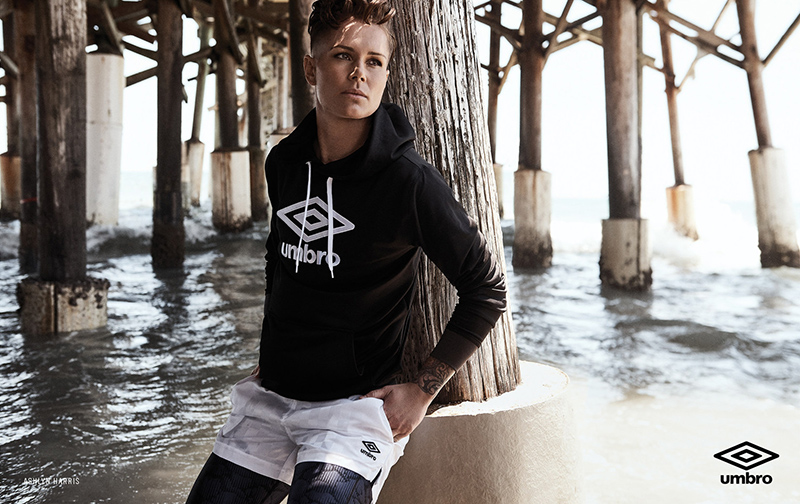 What is Umbro?
Umbro is an English sportswear and football equipment supplier based in Greater Manchester, England. Umbro designs, sources, and markets soccer-related apparel, footwear, and equipment. Its products are sold in over 90 countries worldwide. Since 2012, the company has been a subsidiary of American company Iconix Brand Group.
Who is Ashlyn Harris?
Ashlyn Harris is an American soccer player and FIFA Women's World Cup champion who is currently a goalkeeper for the United States women's national soccer team and Orlando Pride in the National Women's Soccer League, the highest division of women's soccer in the United States. She made her debut for the senior national team on March 11, 2013 and was a member of the championship–winning team at the 2015 FIFA Women's World Cup in Vancouver, Canada.
What Brings Ashlyn Harris Umbro Together?
On August 15, 2017, Iconix Brand Group and Umbro announced a multi-year deal with U.S. National Women's Team member Ashlyn Harris, revealing her first campaign as a brand ambassador for fall '17. Together, Umbro and Harris will usher in a new era for the modern consumer focused on both on-field and off-field apparel, while celebrating legacy products and the brand's soccer-only point of differentiation.
Umbro's new marketing campaign, shot in Harris' hometown of Cocoa Beach, Florida where she plays for the Orlando Pride of the NSWL, encourages fans to share their passion for the game anywhere, anytime. Umbro and Harris believe that what makes people passionate about football is not the fancy footwork, the goals, or the trophies, but the fact that football belongs to everyone on any field: the beach, the streets, school yards and more.
"My first memory of Umbro was when I refused to take off my orange and purple Umbro checkerboard shorts for church at 5 years-old," says Harris, the U.S. National Women's team goalkeeper and FIFA World Cup champion. "I won that battle, and that drive to express myself and stay true to myself, even as a kid, is why I'm so excited about my partnership with Umbro. The brand is the original, and they understand the way the culture of football and the product they create inspires passion, commitment and courage on-and-off the field," she continued.
Harris, who worked with the Umbro team to style her favorite looks on set, will also appear in a series of custom videos for the brand and partner with Umbro to spread her passion for the game nationwide to athletes and non-athletes alike. The powerhouse goalie will show fans how to incorporate the sport into their daily lives, whether or not they have accessibility to a fancy field. Harris will share her journey with Umbro with her loyal following, and share exclusive content across Umbro's digital channels. She will exclusively wear Umbro cleats and gloves during her U.S. National Women's Team games and will work with Umbro on exciting upcoming product collaborations as part of Umbro Premier, launching in spring '18.
The resurgence of the Umbro core athletic short styles and the brand's Double Diamond logo is intended to connect with both nostalgic longtime fans of the brand, as well as new consumers in today's fashion world where retro, fan-favorite brands are rapidly reemerging in the marketplace. Umbro broke into the fashion space in 2017 with trend-driven, elevated retailers like Urban Outfitters, Forever 21, Pac Sun and Zumiez following an Off-White partnership with Virgil Abloh and appearance in the June Vetements show for spring '18.
Umbro's collection captures core authentic soccer sportswear as well as classic lifestyle apparel. The fall collection features heritage pieces such as the diamond track jacket and boots (cleats) mixed with branded sports lifestyle apparel for men and women including t-shirts, leggings, joggers, sports bras and tops.