The Telfair Museum of Art will open a new sixty-four thousand square foot state-of-the-art building in March.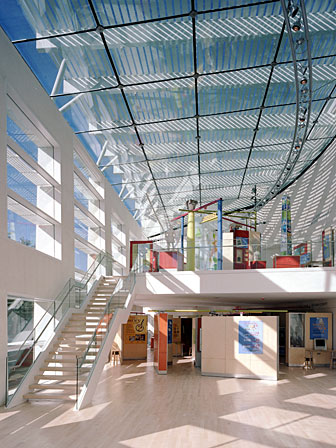 The Jepson Center for the Arts is the first expansion in the Telfair's 120-year history. It will join the museum's two buildings in Savannah's historic district, the Telfair Academy of Arts and Sciences and the Owens-Thomas House, and is named for the principal donors, Alice and Robert Jepson.
Designed by architect Moshe Safdie, the Jepson Center for the Arts will feature two large galleries for major traveling exhibitions; galleries for Southern art and photography and works- on-paper; a community gallery; a hands-on art experience gallery for young people; two outdoor sculpture terraces, education studios, an auditorium, cafe, and store.
"Moshe Safdie has helped the Telfair achieve its objective of creating a dramatic, modern, accessible museum building that is also an important work of monumental sculpture. He has met the challenge of creating a building that is decidedly of its time while complementing the beauty and character of the 18th- and 19th-century buildings that are Savannah's hallmark," said Director Diane Lesko.
Covered with glistening white Portuguese stone and consisting of two separate structures connected by glass bridges over an architecturally- protected lane that is part of Savannah's town plan originally conceived in 1733 by Georgia's founder General James Oglethorpe, the building has a soaring, light-filled atrium and sweeping, three-level grand staircase that provides access to its expansive galleries.
Inaugural exhibitions at the Jepson Center, which include major shows of recent paintings by Robert Rauschenberg and a collection of works gifted to the Telfair by artists whose careers were championed by the late Savannah native and Director of Painting and Sculpture at New York's Museum of Modern Art, Kirk Varnedoe, are sponsored by the Savannah Electric Foundation.
Education is a vital element of the new Jepson Center. In addition to expanded studio space, a teacher and docent resource center, a community gallery, and the auditorium, the building will feature a unique, two-level, hands-on experience gallery especially for children and their families. The experience gallery will use works from the Telfair's permanent collection and examples of Savannah architecture to challenge novice viewers to question their assumptions about and explore big ideas about art.
The Telfair is the oldest public art museum in the South.