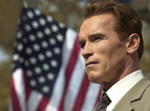 The Arnold Schwarzenegger "Bill of Total Recall" is the latest bizarre entry into California's comically chaotic recall election. The bill is the creation of political satirist Michael Dalton Johnson whose gag money has lampooned politicians from both political parties for the past decade. Johnson's company, Slick Times, is based in Vista, California. The company estimates it will circulate a million copies of the faux money through sales to collectors and activists during the coming campaign.
A satirical eight dollar "Bill of Total Recall" featuring the would be Governator's smiling face is starting to circulate throughout the Golden State. This unexpected infusion of cash was brought about by political satirist Michael Dalton Johnson, the same self-described warped mind who created the Clinton Three Dollar bill and subsequent joke bills "honoring" George W. Bush, Ross Perot, Hillary and a host of other political figures. (The close similarity of Johnson's money to actual American currency attracted the early attention of the U.S. Secret Service which ultimately declined to pursue counterfeiting charges.) Johnson also published Slick Times magazine that lampooned Bill Clinton and crew for eight years.
"I was sitting around bemoaning the fact that politics just wasn't that interesting any more when someone apparently slipped a little mescaline into California's drinking water," said Johnson. "Suddenly politics in the Golden State is more fun than a sack of frogs," he added.
The "Bill of Total Recall" bearing Arnold's visage is issued by "The Abused State of California" and is "signed" by Gary Coleman, "Secretary of Comic Relief" and Gray Davis, "Dead Man Talking." Included on the bill is a bit of verbage that reads like a narrative from Conan the Barbarian: "There came a stranger from a far land. He saw the people were oppressed by cruel taxes and evil overlords. His name was Arnold..." The back side of the bill pictures the California State Capital building displaying a "Stop Arnold" sign and labeled "The Taxation Temple: Home of the Evil Overlords."