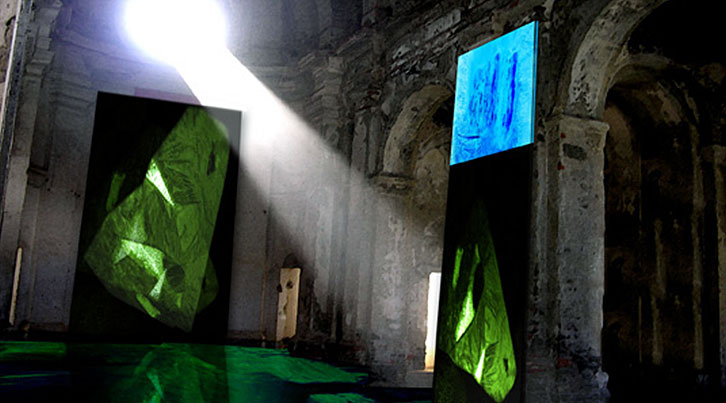 British Columbia artist Gordon Halloran is displaying vast abstract paintings on large ice surfaces in an exhibit named Pitture Sotto Zero (Paintings Below Zero) in Italy at The Cultural Olympiad.
The artist's work is featured at Fortezza di Fenestrelle. The exhibit uses a cooling system to freeze and re-freeze the ice to create multi-dimensional paintings. The paintings, which have the quality of shiny, transparent marble, hang like stained glass in brilliantly colored icy sheets across the floor and up the walls of the Fortezza's church, in windows, doorways, and the open courtyard at its entrance.
In Canada, Halloran's paintings have been called the quintessential Canadian art form. Halloran and his crew of six have been working since the beginning of the year to freeze and re-freeze paint and water to create deeply complex paintings. The empty church has been used as a workshop.
"Ice itself fascinates me," said Halloran. "Its ephemeral nature constantly freezes and changes temperature, dripping, re-freezing, cracking and breaking. This causes the color to migrate along the path of the crystal structure, and creates fantastic complexity and a three-dimensional quality to the paintings."
The vastness of the Canadian winter landscape as well as the artist's experience playing hockey as a boy pushed the artist to work with large ice surfaces, such as Olympic-sized ice rinks where his paintings have been exhibited in Canada, the World Figure Skating Championships, the Calgary Olympic Plaza, and other arenas.
The Cultural Olympiad is a festival that aims to put the cultural aspect of the Olympics on the same footing as the games.