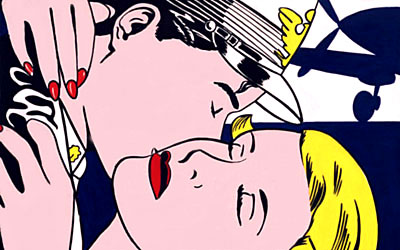 DoubleTake art exibition will pair works from Impressionist and Post-Impressionist masters Monet, Renoir, Degas, and Van Gogh with modern and contemporary works by such artists as Picasso, Mark Rothko, Jasper Johns, and Roy Lichtenstein. Other artists featured in the exhibition will include Manet, Cezanne, Seurat, Gauguin, Eric Fischl, Nan Goldin, and Willem de Kooning. Curated by Impressionist expert and art historian Paul Hayes Tucker, the exhibit features approximately twenty-eight works on loan from Paul G. Allen, many of which have not been seen publicly in nearly fifty years. "For the past hundred years, images by Impressionist masters like Monet and Renoir have so penetrated the cultural landscape that they've almost lost their meaning," said Tucker. "By pairing them side-by-side with great contemporary and modern works, we can cast a new light on these magnificent canvases and learn to see them in a new way."
"The exhibition is about giving visitors a chance to see art with a fresh perspective. Frank Gehry's swoopy building is a great parallel example of using shape, line and color to express an idea, just as artists of all kinds have done over the centuries," said Robert Santelli of EMP.
For his pairings, Tucker selected works that initially might seem to be unrelated, but on closer analysis have a variety of common elements in style, subject, and meaning. For instance, Renoir's La Liseuse (1877) and Lichtenstein's The Kiss (1962) both focus on single women -- one having an independent, quiet moment in a private setting; the other in a larger-than-life embrace with a handsome airplane pilot. Both paintings are voyeuristic in nature, with La Liseuse clearly set in reality -- the details of her dress and environment carefully rendered -- while The Kiss could be more of a fantasy. The two works also share similar compositional tactics -- the figures held in place largely by the division of their respective backgrounds of darker and lighter sections meeting the subjects in each canvas. And finally, they share similar color relationships -- with strong areas of reds and blues used to demonstrate what are ultimately mundane, yet beautifully presented, subjects.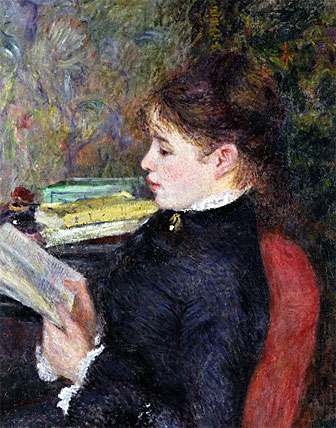 Another pairing, Monet's Rouen Cathedral: Afternoon Effect (1894) and Johns' Numbers (1978) seen together for the first time in history, reveal similar concerns about texture and relief, light and shade. The Monet painting, a part of what many scholars believe to be the artist's most accomplished series, uses thick paint and broken brushstrokes to suggest the physical dimensions of this gothic cathedral and its complex architectural details -- all illuminated with a magical combination of light and shade, much like the Johns sculpture. By comparison, Numbers also demonstrates strong relief, using depth and shadow to create meaning.
"This exhibition is really about looking at art afresh, unencumbered by history or the anchor of popular culture," said Tucker. "In their own ways, these paintings were cutting-edge, painted by rebels who sought to push art to a new level. By seeing them side-by-side in the company of fellow rebels, in a cultural institution that celebrates innovation and creativity, we can resurrect the true spirit that created them."
"This is an exciting exhibition for Seattle, and will make accessible a range of rare and unique work to our entire community," said Mimi Gates of the Seattle Art Museum. "Double Take will give Northwest residents and tourists an opportunity to see classic masterpieces and modern art."
Tucker is a leading Impressionist scholar who has published a variety of books.
DoubleTake opened in April 2006 for a six-month run at Experience Music Project (EMP) in Seattle.