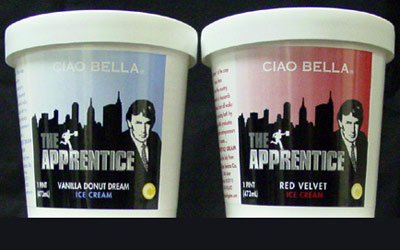 Ciao Bella Gelato Company produced and is selling the two groundbreaking flavors of ice cream created at their factory by the contestants from the hit television show, The Apprentice.
Team Apex and Team Mosaic, contestants on this year's edition of The Apprentice were in a head-to-head competition to create two innovative flavors of ice cream with the help of Ciao Bella's dedicated staff, then sell those flavors on the mean streets of New York.
Vanilla Donut Dream Ice Cream, Ciao Bella's best-loved vanilla gelato swirled with Chocolate syrup and the gooey goodness of Dunkin Donuts donut chunks.
Red Velvet Ice Cream, a cool and creamy take on the classic rich red cake. Ciao Bella's gelato containing an egg base, touch of Belgian Cocoa, raspberries and white chocolate to recreate and spin the southern classic batter into a rich frozen dessert.
The Winner was Mosaic's Vanilla Donut Dream Ice Cream.
New York has chosen its favorite - now it's your turn to get in on the action. Assortment packs containing two of the new Apprentice flavors are now available online at the Ciao Bella Gelato Company, which produces the gelato and sorbet for chefs and consumers.