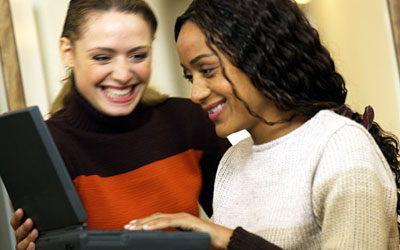 America Online today announced the launch of its new version, AOL 7.0, which integrates local programming into every part of the service, provides easy access to high-speed audio and video content, and introduces breakthrough music and entertainment features to extend AOL's hallmark convenience and ease-of-use.
This new version of the AOL service is available as an upgrade for existing members at no additional charge in the United States and Puerto Rico with localized versions for AOL's international markets in the near future.
Built to respond to extensive consumer research and member feedback, AOL 7.0 offers:
A fresh new look that puts local, community-focused features, shopping and resources front and center throughout the service to make AOL an even more relevant and valuable part of members' daily lives;
Two new breakthrough features: Radio@AOL -- the first built-in radio service designed to make it easy for mass-market consumers to access their favorite music online -- and AOL Box Office -- offering one-stop access to tickets for events of every kind;
Enhancements to the most popular features of AOL -- including e-mail, instant messaging and the Buddy List(r) feature, My Calendar, and the AOL Media Player -- all aimed at making AOL even faster, more reliable, and easier to use than ever before;
An upgraded version of the popular "You've Got Pictures"SM service that allows members to upload pictures directly from any digital camera or scanners for one-stop viewing, sharing, storing and printing, and offers free, unlimited photo storage space and a bundled pricing plan for both prints and online photos;
One-click access to the Internet's best selection of high-speed audio and video content threaded through AOL's Entertainment, Music, News, and Sports channels;
Increased member services support including a new Help button on the AOL toolbar, providing advanced online help features to complement AOL's free 24-hour live customer service network; and
A new "Goodbye" screen that provides information on TV shows that evening, new movie releases and other events, along with exclusive offers from AOL and its leading partners, as members sign off the service.
Listening to Consumers
Barry Schuler, Chairman and Chief Executive Officer of AOL, said: "AOL 7.0 is at the center of a range of AOL initiatives that will open the next chapter of the Internet. We're building on our strong, engaged relationships with more than 31 million members worldwide to lead the transformation of new categories like music, entertainment, local, and digital photography -- with more on the way as broadband and AOL Anywhere create new opportunities like home networking. We've designed this upgrade to both reflect the way consumers are using the medium today and give them new ways to get even more value from it."
Jonathan Sacks, President of AOL, said: "AOL is all about consumers -- we listen to what our members want and build the service around the way they live their lives. By adding new features, providing enhancements to the features that our members have known and loved for years, and retooling the AOL software 'under the hood' to make the service work more smoothly and easily, AOL 7.0 is the best online experience ever. Increasingly, our members don't distinguish between their online life and their life -- neither do we."
Unprecedented Marketing Campaign Includes Range of AOL Time Warner Assets
The launch of AOL 7.0 will be the focal point of a multi-faceted marketing campaign, aimed at gaining both new members and introducing current members to the upgrade. Among the elements of this campaign will be:
An unprecedented drive to distribute software disks in more than 30,000 retail outlets through Time Distribution Services and other AOL partnerships. Disks will be available in more than 85 national and retail chains such as supermarkets, department stores, and others, including such national leaders as Barnes & Noble, BLOCKBUSTER(r), CVS, Circuit City, CompUSA, Gateway, Kinko's, Kroger, Office Depot, Sears, Spencer Gifts, Target(r), Wal-Mart, and Winn-Dixie;
A multi-million dollar print and television campaign, highlighting the new version's increased convenience and relevance to consumers' lives as well as AOL's industry-leading privacy, safety and security protections, which features real AOL members talking about how AOL has made their lives more convenient;
Distribution of millions of AOL disks through direct marketing efforts including inserts into such Time Inc. magazines as People, Sports Illustrated, Entertainment Weekly, and more;
A special online sweepstakes that begins today for both new members and current members who upgrade to AOL 7.0 with a chance to win a trip to see the New Zealand premiere of the highly anticipated first installment of New Line Cinema's upcoming epic adventure trilogy, The Lord of the Rings; and
The upcoming release of an all-new edition of the Wired in a Week guidebook for new Internet consumers, written by AOL Online Advisor Regina Lewis and published by Warner Books.
Joe Redling, President of Marketing for AOL, said: "The ability to draw on the audiences, subscription relationships, and distribution networks provided by the various AOL Time Warner brands gives a whole new dimension to our marketing efforts. Between those efforts and our phenomenal retail partnerships, we're able to reach consumers through a wider variety of platforms in the most efficient way possible, which should make this our most successful launch ever. Our goal is for consumers to know that they can find us easily wherever they are, whatever they're doing."
The Best Localized Content & Features to Manage Daily Life
AOL 7.0 is designed to bring local content front and center throughout the service, reflecting the growing demand for information that's relevant in consumers' own communities as the online medium becomes more and more important to them as a necessary tool to help manage their daily lives.
The AOL Welcome Screen now features local weather, news headlines, sports, headlines, movies, dining and weekend guides automatically personalized for each member's hometown, from the more than 30,000 cities and states covered by AOL's local programming. Relevant local information and commerce opportunities are highlighted across AOL channels including Entertainment, Travel, Health, House & Home, Shopping, Autos, News and Parenting.
The new AOL Box Office with Ticketmaster, another part of AOL 7.0's emphasis on local information, is a one-stop service offering consumers online access to Ticketmaster's extensive inventory of local entertainment events. Covering more than 60 cities across the country, AOL Box Office with Ticketmaster offers people easy and convenient ticket purchasing opportunities for concerts, performing arts,sports, movies, and family events. AOL Box Office lists thousands of featured events from Ticketmaster and tickets from more than 8,000 movie screens nationwide through Moviefone, as well as exclusive pre-sales for premier events such as Madonna's Drowned World Tour and Britney Spears' 2001 Tour.
The service's emphasis on localization reflects surging demand for information that is relevant and useful for entertainment planning, shopping, staying informed, and organizing everyday life. According to the 2001 America Online/Roper Starch Cyberstudy, consumers are interested in activities like checking weather (59% of all Internet consumers) and getting driving directions or maps (72%).
Katherine Borsecnik, President, AOL Brand Management and Programming, said: "For years, AOL has been shaping the evolution and emergence of the 'local Web' to what it is today, and has been instrumental in helping people make important decisions and plans in their daily lives - while also transforming e-commerce and how businesses reach consumers online. With local content threaded through every part of the service, AOL 7.0 takes those efforts to the next level of convenience for consumers and businesses alike."
Enhancements to AOL's Most Popular Features
AOL 7.0 includes many enhancements to the popular features members are already using more than an hour a day, including:
Enhanced e-mail that indicates whether recipients in an e-mail message are currently online, along with a one-click way for members to add new Screen Names to their Address Book and Buddy List;
New instant message & Buddy List feature updates include the ability for members to quickly expand an instant message conversation with one person into a chat with multiple friends. Members can also customize their instant messages with more than 80 new Buddy Icon designs including characters and images from Harry Potter, Cartoon Network and Warner Bros. Animation's Looney Tunes;
A new look and feel for Shop@AOL to make it even easier for members to search for and purchase goods and services. The new design highlights AOL's 100% shopping satisfaction guarantee for Shop@AOL purchases (see AOL Keyword: Guarantee) and the Quick Checkout "wallet," which sets the standard for online payment systems in both efficiency and security - to make shopping easy, safe and secure for all members;
The new AOL Media Player, offering support for playback of members' own CDs in addition to nearly all major audio formats, volume control and the capabilities to load, play, and organize playlists;
Automatic reminders via e-mail or wireless phone or pager for events noted in My Calendar and a new, comprehensive Event Directory offering a wide selection of local options to help members make plans and stay up-to-date with events taking place in their city;
The next-generation of the AOL.com Web site, launching in the coming weeks, with an expanded suite of e-mail and other features for members to access while away from home, including the ability for members to view their own Buddy List and send instant messages directly from the Web;
Graphical smilies in People Connection Chat -- one of the top tested features in beta testing for 7.0;
A soon-to-be-launched AOL Alerts feature that lets members choose to receive alerts they select about news, live sports scores and daily roundups, stock quotes, weather forecasts and inclement weather updates, and traffic reports either online or on their mobile device or pager; and
Significant improvements in compatibility with screen readers, an assistive technology primarily use by people with visual impairments that speaks aloud what our sighted members see on the AOL service. A new Keyword: Accessibility provides help for using the AOL software with screen readers, screen magnification, voice recognition and other assistive technologies.
New AOL Broadband Content Throughout Service
AOL 7.0 is designed to provide both dial-up and broadband consumers with an experience that is optimized for their connection speed. For the growing number of consumers adopting high-speed connections, it delivers seamless access to the Internet's best selection of audio and video content, complementing the AOL High-Speed Broadband services.
AOL's broadband services are currently available through DSL nationwide to BellSouth, Qwest, SBC, and Verizon customers, and through satellite wherever dial-up service is available. The AOL High-Speed Broadband service is also currently being rolled out over Time Warner Cable in its 20 largest markets.
AOL's broadband services combine the advantages of a broadband connection -- including instant-on capability and the ability to make the most of online audio and video -- with the convenience and ease-of-use that have made AOL the world's most popular online service.
With these services, consumers sign on to AOL instantly, move between Web sites and download large files quickly, eliminate the need for a second phone line to let family members be online and talk on the telephone at the same time; and begin to enjoy high-speed broadband's capabilities to enable next-generation services such as home networking, interactive gaming and more.
The AOL 7.0 software automatically detects when a member is signed on at high speed, and seamlessly integrates featured content into a "High-Speed AOL" area on the Welcome Screen, AOL channels and sites, replacing the separate "multimedia tower" that was used to display high-speed broadband content in previous versions of the AOL service.
Among the content offerings that this integration puts one click away are:
News reports and live coverage from CBS News, CNN, and the Weather Channel;
Sports highlights and more from the NFL, NBA, and NASCAR, as well as CNNSI, HBO Sports, CBS Sportsline, and Turner Sports;
Music videos, concerts, listening parties, interviews, and more, as well as special features from partners like Rolling Stone.com;
Movie previews, animated content, short video clips, and entertainment news from HBO, Moviefone, Warner Brothers Online, E!, Cartoon Network and others;
Business and technology news from CBS Marketwatch and CNET;
Interactive features and animated cartoons for Kids from Cartoon Network, Kiddonet and Warner Brothers Online; and
Travel destination guides and previews from Travelocity.
Audrey Weil, President of AOL Broadband, said: "Broadband gives consumers faster connections and always-on convenience, but even more important is the content that comes through those so-called fat pipes. Through our AOL Time Warner assets and hundreds of other content partnerships, we're able to offer AOL members the richest choice of convenient, entertaining, and informative audio and video content anywhere, built right into the easy-to-use service. AOL 7.0 is optimized for any speed, so members don't have to think about how they're connected. They can just focus on what they want to see and hear."
AOL International Takes 7.0 Global
AOL services around the world will also be making the launch of localized versions of AOL 7.0 a centerpiece of marketing efforts to drive membership growth.
AOL 7.0 will be available to AOL Canada members via download starting the first week of November at AOL.ca.
AOL services in the UK, Argentina, Australia, France, Japan, and Mexico will be launching AOL 7.0 later this year.
America Online Brasil and AOL Germany will be launching the software in the coming months.
Availability
AOL members can upgrade to new version AOL 7.0 at AOL Keyword: Upgrade. Others can download the new version at www.aol.com.