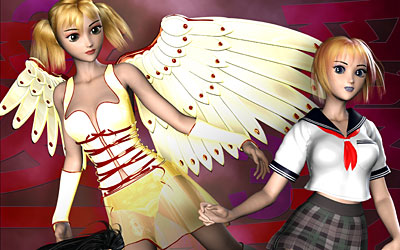 Anime and Manga fans can now download DAZ's Aiko 3 3D Anime Manga product.
"The DAZ Production team has created the Aiko character and recruited expert Japanese and other international artists to create clothing, characters, and accessories," said Dan Farr of DAZ Productions. The 3D technology used in Aiko allows users to change character poses, shape morphs such as the character's eyes, and add clothing and accessories. Users can utilize Aiko to create characters for anything from comic books to animation. "Essentially, Aiko is a 3D kit that almost anyone can style art and animation with our 3D program, DAZ Studio, as well as other 3D party products like Bryce, Poser and Shade," said Farr.
Aiko 3 base provides users with a female model, hair, poses, expressions and a cartoon-style skin type. The character will also be Mimic-ready so users can easily lip-sync Aiko with any pre-recorded sound file with DAZ Mimic.
Other Aiko packages are also available. The Aiko 3 Starter Kit features Aiko 3 Complete (a character with all her morphs, expressions and a couple of textures), additional expressions, eye textures and first moves. The Aiko 3 Professional Bundle includes the Aiko 3 Complete with more advanced clothing, poses, hair, textures and accessories.
"The popularity of Anime and Manga products is enormous, particularly in Asia," said Chris Creek, executive vice president and co-founder.
DAZ provides high-quality 3D models at the industry's most competitive prices. DAZ develops software applications that support its content, including DAZ Studio, a free 3D character art application, DAZ Mimic, a lip-synching application, and DAZ Bryce, a 3D environment package.