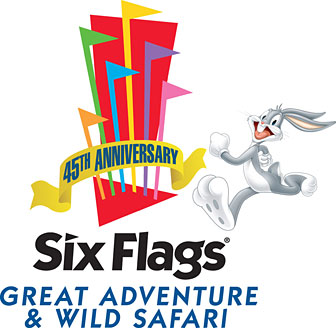 Six Flags Great Adventure and Wild Safari announced today the launch of a massive 45,000 ticket online giveaway on its opening weekend, March 31 to April 2, to kick off Six Flags' year-long 45th celebration. The 2006 season will be marked by exciting rides, new shows, animals, and enhanced guest service features.
"We want families to know that a dramatically different adventure awaits them this season at Six Flags Great Adventure," said Ron Sevart. "To kick off our 45th celebration, we're inviting 45,000 guests to experience the greatest family entertainment experience, remember all of the memories they've shared with us throughout the years, and create new moments that they'll cherish for a lifetime thanks to the innovative new rides, characters and attractions they'll find only at Six Flags."
The first 45,000 people who register can sign up for the free opening weekend tickets. The ticket admissions will be spread over the entire opening weekend - March 31 to April 2. The website also invites families to submit memories from their Six Flags experiences over the years.
Daily parades, fireworks, stage shows, and characters will perform throughout the park.
At 188 feet tall, the rollercoaster ranks among the tallest wooden roller coasters in the world. Its 4,400 feet of mountainous track includes records for second tallest, fastest and longest drop of all wooden coasters in America and features the world's steepest drop on a wooden roller coaster, 76 degrees.