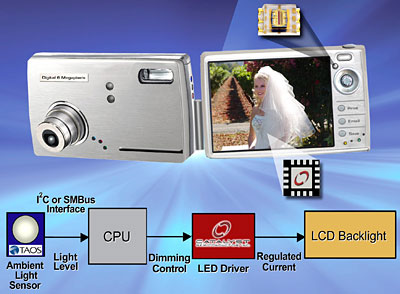 Catalyst Semiconductor and Texas Advanced Optoelectronic Solutions (TAOS) are jointly promoting each others' products in the systems solutions they offer to their global Solid-State Illumination (SSI) customers.
Catalyst Semiconductor designs and manufactures a growing family of dedicated circuits for LED backlights, LCD displays and automotive/aircraft interior lighting. These circuits include white LED drivers, GPI/O expanders, and digitally programmable potentiometers (DPP). To effectively meet the system requirements of SSI, ambient light sensing (ALS) must be incorporated.
TAOS designs and markets a broad range of light sensor product families including color sensors, light-to-frequency converters and ambient light sensors. The state-of-the-art TSL2561 Light-to-Digital Converter helps simplify ambient light sensing implementation in applications ranging from display panel products such as LCD monitors, flat-panel televisions and cell phones as well as digital cameras, street light control, security lighting, sunlight harvesting and machine vision. The TSL2561 provides an I2C output in a chip scale package. In 2002, TAOS was the first company to offer an ambient light sensor with a bus output, eliminating 2-4 external components normally required for output signal conditioning.
"Catalyst will incorporate the impressive performance of the TAOS TSL2561 Light-to-Digital Converter into its future application notes, evaluation boards and reference designs," said Barry Wiley of Catalyst. "In this way, Catalyst engineers can provide more complete cost-effective solutions in a variety of SSI applications. Working closely with TAOS engineering and marketing personnel helps ensure that Catalyst will continue to be knowledgeable regarding the ongoing development of light sensing technology. Further, TAOS and Catalyst share a major distribution channel, Future Electronics, which facilitates their cooperation at the customer interface."
"We are looking forward to this opportunity to work with Catalyst to jointly promote our products into the very exciting solid-state illumination market," said Carlo Strippoli of TAOS. "Catalyst has aggressively entered into this market by developing an impressive portfolio of products that play synergistically with our TSL2561 Light-to-Digital Converter as well as other devices in our Intelligent Opto-Sensor product lines. Moreover, in 2003, TAOS identified four specific markets -- automotive, consumer, industrial and medical -- as offering the best growth potential for optoelectronic sensor solutions. We believe this joint promotional agreement will help TAOS realize the fulfillment of this long-term strategy much more quickly."
SSI was originally intended for use in indicator lights only. However, recent advances in light emitting diode (LED) and organic light emitting diode (OLED) technology is enabling SSI to replace conventional lighting in traffic lights, mobile phones, digital still cameras, LCD backlights, signage and other niche applications. The U.S. Department of Energy (DOE) projects that the use of SSI technology will help decrease energy consumption for lighting by 29% by 2025. The DOE also projects that SSI market revenues will be as much as $10 billion within the same time period.
Catalyst Semiconductor supplies high performance analog/mixed-signal solutions and nonvolatile memory products used in automotive, aircraft, telecommunications, computation, industria, and consumer markets.
TAOS develops, manufacturers and markets leadership integrated optoelectronic products that combine precision mixed-signal functionality and photo-detectors on the same integrated circuit.