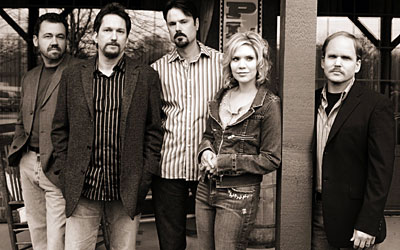 Cracker Barrel and Alison Krauss and Union Station today announced plans for an exclusive CD to be carried in Cracker Barrel's retail stores beginning May 10. The CD, titled Home on the Highways, is a collection of band-picked favorites from previously released material and is the newest element stemming from the restaurant's presenting sponsorship of the group's 2005 Lonely Runs Both Ways tour.
Band members say Cracker Barrel is a natural fit both personally and professionally. "Cracker Barrel has been a little piece of home ever since we've been travelling on the road," says Alison Krauss, who has earned 17 Grammy Awards and multiple honors from the Country Music Association and International Bluegrass Music Association.
Banjo player and songwriter Ron Block says he appreciates Cracker Barrel's respect for authentic music. "Respect for tradition gives us strong roots, while the continual search for new songs and sounds causes us to walk a wide musical path," says Block. "This special Cracker Barrel compilation contains a cross-section of our material from the past few years. It represents everything from the straight-ahead bluegrass of Rain Please Go Away, Momma Cried, and I Am A Man of Constant Sorrow to the contemporary acoustic music of Crazy As Me, Ghost In This House, and Let Me Touch You For Awhile."
Home on the Highways retails for $11.99 and will also be available online. This release joins an extensive music offering available at all 519 Cracker Barrel locations, including more than forty titles in the Heritage Music and American Music Legends collections.
"Music is an essential part of the guest experience at Cracker Barrel and an important part of who we are as a company," said Chris Tomasso of Cracker Barrel Old Country Store. "Along with the Grand Ole Opry Live Classics and American Music Legends series, this Alison Krauss and Union Station release strengthens our position of offering important music to our guests."
In addition to the eleven songs featured on the CD, fans will see more than eight minutes of behind-the-scenes bonus video footage. The video features an impromptu jam session and the band members sharing childhood memories as they tour Cracker Barrel's extensive collection of authentic artifacts located in the company's decor warehouse.
To promote the new CD, Cracker Barrel will partner with radio stations across the country to provide complimentary trips to Nashville for the band's Home on the Highways CD launch party backstage at the Grand Ole Opry on May 7th, 2005. The Nashville trip features VIP passes to the CD launch party where winners will meet Alison Krauss and Union Station. The package also includes tickets to the band's live performance on the Grand Ole Opry that night.
Cracker Barrel Old Country Stores are modeled after 1900-era country stores, featuring old photographs, authentic antiques, memorabilia, and wood burning fireplaces with stone hearths.