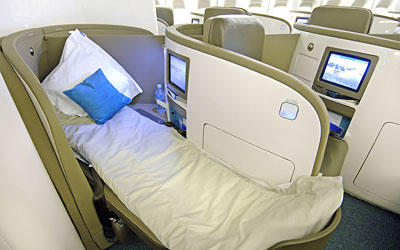 As part of its $800 million upgrade of its long-haul service, Air New Zealand revealed its first refitted Boeing 747-400 aircraft in North America featuring the longest lie-flat bed available in business class today, digital in-flight entertainment at every seat, and a new class of travel called Pacific Premium Economy. The aircraft was unveiled at Los Angeles International Airport (LAX) where the New Zealand-based airline also just completed expansion of its international lounge.
Air New Zealand's new long-haul design of the first 747 aircraft took more than 60,000 hours of work to complete. Each additional refitted 747 will be introduced progressively on flights from San Francisco beginning this month and from Los Angeles on November 5, 2005. The refurbishment of the entire fleet, costing approximately $112 million, is expected to be finalized by mid-next year.
The newly-expanded lounge at LAX was completed in August and is available to Air New Zealand Business Premier passengers and Star Alliance Gold members. Doubling the space available for passengers to relax from 3,800 square feet to 7,550, the lounge has been completely redesigned to reflect the natural elements of New Zealand. From paua laminate made from the inside of New Zealand's abalone shell to rimu wood veneer and carpet made from New Zealand wool, travelers will begin to experience New Zealand elements before they board the plane. It also offers seven zones to meet the diverse needs of travelers, such as a quiet zone that includes a library table for reading and a relaxation zone that includes recliners for catching up on sleep before or in-between flights.
"This is a brand-new era of long-haul travel for North American travelers going to the South Pacific," said Gus Gilmore of Air New Zealand - The Americas. "We've considered every step a traveler takes with us - the time spent in our international lounge and their experience in our aircraft, even the small things like our salt and pepper sets. Every detail has been transformed so that the voyage for North American travelers is even more comfortable and inspiring than ever before."
The new aircraft interior is configured in a three-class layout that includes Business Premier, Pacific Premium Economy and Pacific Economy. Each class has been designed to capture the essence of New Zealand.
This configuration will also be used on the airline's eight new Boeing 777-200 aircraft.
The innovative Business Premier design includes a comfortable 22-inch-wide leather armchair that converts into a six-foot by 7.5-inch bed. The bed is the longest available in business class today and makes Air New Zealand the only airline to offer a truly lie-flat bed at a business class price from North America to New Zealand. Seating for 46 is available in the two front cabins on the 747's main deck and in the front half of the upper deck, and the herringbone-like seating configuration means direct aisle access for all passengers. Other features include an ottoman footrest that doubles as a visitor's seat, in-seat power, a high resolution 10.4-inch screen to view the on-demand digital entertainment system and active noise-cancellation headsets.
Pacific Premium Economy, Air New Zealand's newest class of travel, is located exclusively on the upper deck with seating for 23 and features the largest pitch in its class at 38 to 40 inches and a generous seat width of 18.5 inches. Travelers will also enjoy on-demand digital entertainment through a personal 8.4-inch high resolution screen. The introduction of this new class makes Air New Zealand the only airline to offer premium economy seating on services to and from New Zealand.
"With Pacific Premium Economy fares, which are available for just 25 to 30 percent more than economy fares, we have already seen strong bookings in North America," said Gilmore. "Bookings have been particularly strong in San Francisco and London, with a total of more than 8,000 sectors booked across North American and London routes."
Air New Zealand's refreshed Pacific Economy class includes seating for 324, retains the airline's leading 34-inch seat pitch and now features on-demand digital entertainment through high resolution 8.4-inch in-seat video screens. The seat, designed by well-known seat manufacturer Recaro, includes a slim-line shape, memory foam cushioning to shape to the passenger and a flexible seat edge for extra comfort.
Air New Zealand offers more direct flights to the South Pacific than any other airline, including flights from Los Angeles to New Zealand, the United Kingdom, Australia, Fiji, Tahiti, the Cook Islands, Tonga, and Samoa.