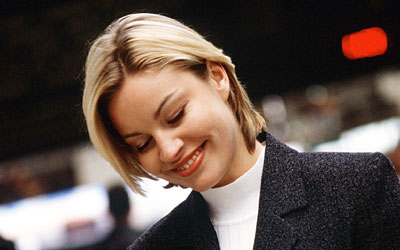 A new federal law requiring airport screeners to be U.S. citizens is unconstitutional and discriminatory, according to a lawsuit filed today by the American Civil Liberties Union, Service Employees International Union (SEIU) and nine screeners from two major California airports.
"Taking qualified, experienced screeners off the job because of their citizenship status won't make anyone safer," said Mark Rosenbaum, Legal Director of the ACLU of Southern California. "By eliminating thousands of skilled, qualified, and experienced screeners solely on the basis of their citizenship status, and replacing those workers with people who have no on-the-job training or experience, we are opening the door to unnecessary security risks at our airports."
Under the Aviation and Transportation Security Act, enacted last November, thousands of trained, experienced workers will be terminated no later than November 19, 2002. The ACLU and SEIU filed the lawsuit on behalf of screeners at San Francisco International Airport (SFO) and Los Angeles International Airport (LAX) who could lose their jobs.
The citizenship requirement would bar legal immigrants from working as airport screeners even though no such requirement exists for members of the U.S. military, airline pilots, baggage handlers, flight attendants, cargo loaders, mechanics, guards, and plane cleaners, the ACLU noted in its lawsuit.
At SFO, where non-citizens comprise 80 percent of the screener workforce, screeners themselves advocated for higher security standards, improved background checks, and more rigorous employment qualifications for screeners, resulting in one of the nation's best records of airport security.
"I was very upset when I heard that non-U.S. citizens would be fired from the job," said Jeimy Gebin, a named plaintiff in the lawsuit and a legal U.S. resident who took a job as a screener at LAX after serving in the U.S. Army for three years. "It doesn't make sense that I can serve my country in the Army but not work in an airport as a screener. If I get fired because of this new law, I could enroll in the National Guard and be back in the airport two weeks later, standing behind the screeners holding a rifle. I believe this law won't make anyone safer, but it will hurt a lot of good, hard-working people."
"Americans want security, not scapegoating," said Eliseo Medina, Executive Vice President of SEIU, the nation's largest union of immigrant workers. "Experienced, qualified, taxpaying immigrant screeners are part of the solution, not part of the problem. They should be allowed to remain on the job."
The lawsuit, filed in federal court, names Secretary of Transportation Norman Mineta and John Magaw, the undersecretary of transportation for security as defendants.
Applying for an Airport Security Job
Formerly, full-time positions as Transportation Security Screeners, Lead Transportation Security Screeners, and Supervisory Transportation Security Screeners at the following airports were open:
John F. Kennedy Int'l Airport (JFK)
Logan Int'l Airport (BOS)
Newark Int'l Airport (EWR)
Bradley Int'l Airport (BDL)
Hartsfield Atlanta Int'l Airport (ATL)
O'Hare Int'l Airport (ORD)
Orlando Int'l Airport (MCO)
LaGuardia Airport (LGA)
Kalamazoo/Battle Creek Int' Airport (AZO)
Newport News/Williamsburg Int'l Airport (PHF)
Westover Metropolitan Airport (CEF)
Hanscom Field (BED)
Port Columbus Int'l (CMH)
Philadelphia Int'l Airport (PHL)
Charlotte/Douglas Int'l Airport (CLT)
Chicago Midway Airport (MDW)
Cincinnati/Northern KY Int'l Airport (CVG)
Cleveland Hopkins Int'l Airport (CLE)
Minneapolis-St. Paul Int'l Airport (MSP)
Pittsburgh Int'l Airport (PIT)
Tampa Int'l Airport (TPA)
Raleigh-Durham Int'l Airport (RDU)
Worcester Regional Airport (ORH)
Athens/Ben Epps Airport (AHN)
Groton-New London Airport (GON)
Muskegon County Int'l Airport (MKG)
Dallas/Fort Worth International Airport (DFW)
Detroit Metro Wayne County Airport (DTW)
Luis Munoz Marin International Airport (SJU)
El Paso International Airport (ELP)
T F Green State Airport (PVD)
William P. Hobby Airport (HOU)
Albany International Airport (ALB)
Bangor International Airport (BGR)
Buffalo Niagara International Airport (BUF)
Cyril E. King International Airport (STT)
Harrisburg International Airport (MDT)
Long Island MacArthur Airport (ISP)
Manchester Airport (MHT)
Pensacola Regional Airport (PNS)
Portland International Jetport (PWM)
Syracuse-Hancock International Airport (SYR)
Akron-Canton Regional Airport (CAK)
Burlington International Airport (BTV)
Charlottesville/Albemarle Airport (CHO)
Erie International Airport (ERI)
Fayetteville Regional Airport (FAY)
Lehigh Valley International Airport (ABE)
Johnstown-Cambria County Airport (JST)
Tweed - New Haven Airport (HVN)
Additionally, at airports nationwide TSA has administrative employment opportunities available for the following positions: Federal Security Directors, Assistant Federal Security Director for Screening, Scheduling Operations Officer, Screening Manager, Administrative Officer, Secretary, Stakeholder Manager, Human Resource Specialist, Deputy Federal Security Director, Training Coordinator, Industrial Engineer, Stakeholder Liaison, Customer Support and Quality Improvement Manager.
Please see Part Time Airport Screener Jobs for what is now available.