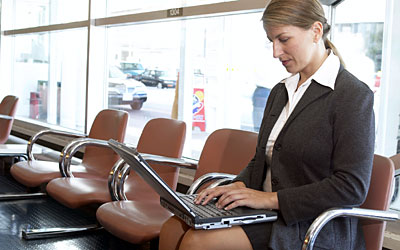 Proxim Corporation today announced that it is providing the Access Point infrastructure for wireless hot spots in every airport in Norway. Under the supervision of Avinor, the Norwegian airport administration, each airport will offer high-speed Internet access to travelers with Wi-Fi equipped laptops.
According to research firm IDC, demand for hot spots is expected to grow dramatically, particularly in Europe. They predict nearly 8 million hot spot users in Western Europe by 2007, with the majority of those users logging in to networks in airports, hotels, and restaurants.
Oslo Airport in Gardemoen was the first airport to deploy a public hotspot, using over 200 of Proxim's ORiNOCO AP-2000 Access Points and the Nomadix Universal Subscriber Gateway, a high-performance platform for large public access deployments. The centralized architecture enabled by this combination of products delivers the easy management, scalability and user authentication required for large public access deployments. After extensive testing, Avinor selected the combined Proxim-Nomadix solution because it offered the most reliable, secure and flexible network to meet their needs across every airport environment.
Wireless networks are currently being rolled out in the other major airports in Norway and are scheduled for completion at the end of this year. The other airports are: Stavanger, Bergen and Trondheim. In addition to providing hot spot capabilities, the networks will provide wireless infrastructure for airport administrative offices.
Proxim provides wireless networking equipment for Wi-Fi and broadband wireless networks. The company is providing its enterprise and service provider customers with wireless solutions for the mobile enterprise, security and surveillance, last mile access, voice and data backhaul, public hot spots, and metropolitan area networks.