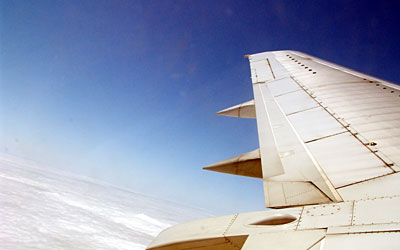 The Association of Flight Attendants, AFL-CIO, is telling the U.S. Congress that the safety and security procedures and guidelines announced by the Federal Aviation Administration (FAA) in response to the September 11th terrorist attacks are not extensive enough to prevent a similar tragedy in the future, and are recommending significantly stronger action. "The FAA's new safety and security procedures fail to address the most serious breakdowns in aircraft cabin security that appear to have led to this tragedy," said Patricia Friend, AFA International President. "To prevent future attacks, flight attendant training and certification procedures must be significantly updated and enhanced, security screening procedures must be federalized, and carry-on baggage limits must be imposed."
Flight attendants are calling for:
Updated training procedures and certification of flight attendants. Airlines currently develop flight attendant training programs that meet FAA minimum criteria. While the training on aircraft evacuation is frequently updated, training in hijacking situations is extremely outdated. Current training includes showing flight attendants a video focused on hijacking situations faced in the 1970s.
FAA minimum requirements for flight attendant training procedures must be made more comprehensive, and include updated hijacking and security training. Flight attendants must be certified once training programs are successfully completed.
The imposition of a single standard that strictly limits carry-on baggage. Security screeners are over-taxed under the current system. Since there is no system-wide standard on carry-on baggage, screeners are required to scan too many bags, many of which are too large, making proper scanning difficult. As a result, screeners miss suspicious or potentially dangerous items in bags that could be used in another attack. When such items are intercepted, heightened scrutiny of the person carrying the items can then occur.
Federalization of airport security screening, with jurisdiction turned over to the U.S. Department of Justice. Current procedures have led to poorly paid, poorly trained, inexperienced, and uncommitted workers -- with more than 100% annual turnover in most cases -- who have no stake in preventing dangerous items from entering the aircraft cabin. Security screening should be treated as a law enforcement job, with the training and compensation commensurate with that of other federal law enforcement officials.
An increase in the percentage of checked baggage that is screened.
Passenger prescreening to be expanded for domestic passengers as well as international passengers.
Positive passenger baggage match expanded to all flights. This includes removing from aircraft the bags of passengers who have not boarded the plane.
The ban on all remote check-ins, including disallowing electronic ticketing check-in kiosks that currently allow a passenger to check-in and receive a boarding pass without ever being positively identified by the carriers' airport staff. All passengers must check-in and show identification at staffed check-in counters.
All current and future commercial aircraft to be retrofitted with fortified cockpit doors and new regulations to ensure a secure cockpit with limited access.
A mandate on the use of, and increase in the number of, federal marshals on domestic flights.
Disaster relief for all the families of victims of Tuesday's attack and for flight attendants whose jobs are affected by cutbacks as a result of the attacks.
Trained and certified personnel to perform searches of aircraft cabins.
K-9 bomb-sniffing dogs made available at all major airports for use in routine airport and aircraft bomb searches.
October 25, 2001 - Congressman Jerry Moran today sponsored a bill to make substantial improvements to airline safety and security. The Secure Transportation for America Act is a comprehensive measure to improve security features of the air transportation system. "Kansans need to know that all steps are being taken to improve the safety of air travel," Moran said. "Improving air safety will require changes at every phase of the safety process." The bill includes requirements for stronger cockpit doors, increased use of air marshals and law enforcement personnel at each screening location. In addition, the bill federalizes the supervision of the screening process and requires background checks for screening personnel. "It is unfortunate that it took the tragedy of September 11th to call attention to the needed improvements in aviation security," Moran said. "We must continually improve safety for all travelers in the future." Congressman Moran is a member of the House Aviation Subcommittee.
Aviation Disasters : The World's Major Civil Airliner Crashes Since 1950 - Although flying is one of the safest forms of transportation, headline-grabbing disasters still occur at frequent intervals. In addition to the most notable civil aviation disasters to occur since the second edition of this book appeared in 1996 - including the Valujet DC-9, TWA Flight 800, and the Swissair MD-11-nearly 300 accidents are detailed with dates, locations, operators, aircraft types, and causes if known. Illustrated throughout with photographs, maps, and diagrams, the book also recounts the technological advances that have been made as a result of the disasters. Cases in which final reports have been released since the previous edition are updated, making this the most current and comprehensive book available on all civil aircraft accidents that have claimed 60 or more lives during the second half of the 20th century.
Commercial Aviation Safety - An overview of airline industry safety statistics, standards, and mandates. Covers FAA regulatory structure, development of technologies, management roles, air transport safety measurement methods - and more. Includes tables relating to commercial aviation accident statistics. New chapter on Aviation Security.
Airline Passenger Security Screening : New Technologies and Implementation Issues - Report formed by the National Materials Advisory Board to review all potential automated instrumental methods currently under consideration for passenger screening applications.
Airline Safety - This volume acknowledges increased public apprehension regarding airline travel safety by furnishing valuable information concerning airline safety worldwide from 1960 to the present. Thoroughly documented and succinctly summarized selections from periodicals, books, government publications, dissertations, and conference reports focus on air piracy, deregulation, and metal fatigue, and combine to form a manual which can provide airline industry personnel as well as the traveling public with both an overview of available data on airline safety and a reference guide to further investigation of this important topic.
Twilight Sky: Air Disaster at the World Trade Center and the Pentagon - September 11, 2001 was a catastrophic day in American history. Four Boeing jets were hijacked and brought down, precipating the collapse of the World Trade Center and part of the Pentagon, and leaving America in an unprecedented state of shock. Twilight Sky focuses on the cause of these tragic events: the takeover of two Boeing 767 and two Boeing 757 jets from American Airlines and United Airlines. Each chapter of Twilight Sky is devoted to each aircraft that was destroyed, describing the known events on board, how the hijackers might have taken control, the technical challenge they faced, and the flight profiles based on all available data. The text is lavishly supplemented by aeronautical charts and diagrams, as well as photos of the exact planes involved thanks to the contributions of some of aviation's most talented photographers. The book closes with an overview of the state of the airline and aerospace industry in the wake of the disaster, summarizing national defense security measures and the resulting economic impact. Finally, procedural security lapses are discussed, some not yet touched by the news media, which if addressed and resolved will strengthen and solidify the safety of American skies. Every idea, from steel cockpit doors to "knockout gas", is reviewed and analyzed in detail to consider its weaknesses and viability. With prudent measures in place, tempered by the very liberty that American freedom preserves, the twilight sky will give way to a new dawn.