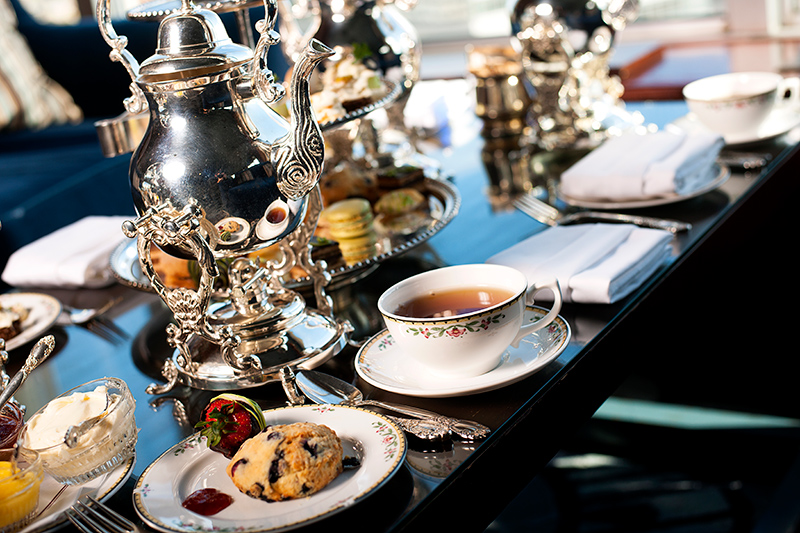 Afternoon Tea Pfister Hotel - elegance and charm. The Pfister Hotel's popular afternoon tea service is returning Friday, October 20, 2017 and will run through April 1, 2018. Reminiscent of the 19th century, The Pfister's afternoon tea offers an elegant experience perfect for friends and families looking to enjoy a traditional English afternoon in Milwaukee's most luxurious hotel.
Providing an afternoon tea experience unlike any other, guests will enjoy a tableside tea blending, presented in all-silver service by a Pfister Tea Butler, and will learn about each variety of tea, the origins, unique flavors and effects on mood and health. Tea will be paired with a special menu complete with fresh scones, sandwiches and pastries. The Pfister's tea service is offered in Blu, on the 23rd floor of the hotel, offering panoramic views of Milwaukee's skyline and Lake Michigan.
"Our afternoon tea service is one of our most popular offerings at The Pfister Hotel. A cherished tradition for many generations of friends and families, our afternoon tea service is unique as we have our very own Tea Butler who makes sure each cup of tea is brewed to the correct temperature and educates our guests on each tea offering and blending options. Our tea service is especially popular during the holiday season when people are looking for a relaxing respite from the bustle of busy holiday activities, to relax and unwind in our elegant tea room overlooking the city. We look forward to once again welcoming guests for this beloved tradition," said Tim Smith, general manager of The Pfister Hotel.
The Pfister Hotel is proud to offer a fine selection of Rishi Teas in 12 varieties, including its signature blend, Pfister 1893, exclusively crafted in 2013 in conjunction with Milwaukee-based Rishi Tea. Pfister 1893 features a blend of jasmine and wild-rose scented white teas infused with rejuvenating peppermint and calming lavender. Menus vary from Victorian traditional, sweets, vegetarian and gluten free. The high tea experience is complete with delightful music by a pianist, a cozy fireplace and fine selections of Veuve Cliquot or Veuve Cliquot Rose.
For ladies and gentlemen twelve years and younger, an All Grown Up menu is available featuring warm sipping chocolate, lemonade, cider, Vermont ham & cheddar finger sandwiches, herbed chicken salad tartlets, traditional scones and chocolate ganache tartlets.
Afternoon tea originated in England in the 1800s, and was often served in the drawing room between four and five o'clock. Women would wear long gowns and men their finest suits while they socialized over delicacies and delights.