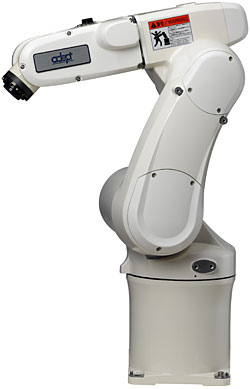 Adept's latest robot family is a line of 6-axis articulated robots designed specifically for precision assembly applications. The new family of robot's speed and payload capacity make them ideal for material handling, packaging, and testing applications.
Adept recently completed the delivery and installation of sixty 6-axis robots at a major telecom contract manufacturer that is in the first phase of a multi-year program for cellular phone assembly.
"The speed, precision, and dexterity of the AdeptViper s650 robot made it the perfect flexible assembly platform for the demanding production and business requirements of this wireless handset manufacturer," said Rob Bucher of Adept.
"The AdeptViper robot family represents a significant growth potential for Adept as it addresses the rapidly expanding market segment for higher speed and precision in 6-axis robot applications," says Robert Malone of Managing Automation. "The company has chosen to expand into this market by leveraging its strong base of applications and controls experience to provide a unique solution for this market."
"The speed and precision of the AdeptViper family combined with Adept's powerful controls and vision technology enables 6-axis robots to finally be deployed into applications where previously only 4-axis robots met the performance requirements. This allows customers to leverage the flexibility and dexterity of 6-axis robots without the historical compromises in cycle time or precision providing an effective alternative to offshore manufacturing," further commented Mr. Bucher.
The AdeptViper robots are available in two models, the AdeptViper s650 and the AdeptViper s850. The AdeptViper s650 robot has a 653 mm reach and a 12" cycle time of 0.49 seconds and the AdeptViper s850 robot has an 854 mm reach and a 0.59 seconds. Both robots are designed for either table-mounting or ceiling-mounting and have a 5 kg payload capacity.
Adept designs, manufactures and markets robotic systems, motion control, and machine vision technology.