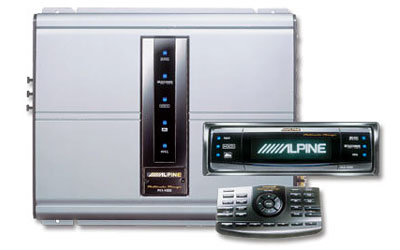 This year, upgrading to a 5.1 multi-channel sound system for the car will be much easier. Alpine Electronics of America, Inc. has announced the first integrated 5.1 multi-channel audio system that combines a high performance DVD Video-based audio visual head unit with the industry's first digital amplifier featuring a built-in sound processor.
Alpine's IVA-D300 DVD Mobile Multimedia Station/MRA-D550 Digital Theater Amplifier combination enables audiophiles to bring the sound impact of a home theater surround sound system to their vehicle at a more affordable price by eliminating the need for a separate sound processor.
The 60W RMS x 5 MRA-D550 Digital Theater Amplifier features built-in Dolby Digital and DTS digital surround decoders that will immerse listeners with 5.1 sound from DVD movies and music. Dolby Pro Logic II is also included, enabling people to enjoy a discreet multi-channel experience from two-channel music formats. Users simply add their choice of speakers and a subwoofer amplifier, such as one of Alpine's V12 AccuClass-D true-digital mono amps, to complete their 5.1 sound system.
The MRA-D550 and IVA-D300 were engineered to work together to deliver a superior sounding, easier to control 5.1 multi-channel system. The MRA-D550 Digital Theater Amplifier connects to the IVA-D300 via Alpine's Ai-NET bus, enabling control of all-digital sound tuning through the head unit's seven-inch retractable monitor. The IVA-D300 monitor uses Alpine's exclusive PulseTouch technology, making it the industry's first touch panel to provide tactile, force feedback-like sensation to a user's fingers for easier control. The PulseTouch technology lets users adjust all DVD menu functions, as well as the MRA-D550's digital parametric EQ, digital time correction and digital crossover, among other sound tuning controls.
"Discriminating music lovers are very enthusiastic about bringing home theater-like sound to their vehicles, but the process can be complicated," said Stephen Witt, Alpine's vice president of Brand Marketing. "Alpine's goal is to remove the barriers that prevent people from upgrading to a 5.1 car audo system. We think the MRA-D550/IVA-D300 integrated system is a great step towards that goal."
Alpine creates an integrated platform concept for mobile multimedia with premium components for digital audio/video media playback, digital broadcast reception, and satellite linked navigation.