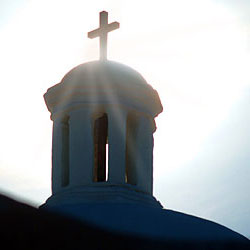 Handmaid for the Lord - Original Catholic jewelry and Sacramentals.
Augustine of Hippo - Biography and texts

National Shrine of St. Elizabeth Ann Seton - Articles, biography, events.
Modern Papal Visions - Apparitions of Mary - Some Recent Papal Visionaries - Pope Leo XIII, Pope Pius XII, Pope John Paul II.
Patricia's World of Catholic Saints and Holy Witnesses
Joseph's Catholic Webatorium - Mary and New Testament Art.
St. Mary of the Visitation Parish (Huntsville, AL)
A Special Time - Catholic cemeteries are signs of hope that provide a place for prayer and witness to our belief in the resurrection promised through Jesus Christ.
Adoremus - Scripture, gesture, music, art.
Orthodox Prayers, Hymns and Articles
Eucharist, Liturgy & Theology Questions Answered by Theologians at the Congregation of the Blessed Sacrament
Byzantine Catholic Church in America - Byzantine Christian Faith, Worship & Spirituality
Catholic Shop - Books, candles, cards, crucifixes, music.
Catholic FAQ - Answers to common questions about the Catholic Church, Catholicism, Christianity, God, Trinity, Jesus, Pope, sacraments, Tradition, Bible, salvation, Mary, purgatory, confession, eucharist, Latin, priests, baptism, birth control, Scripture, and justification.
Community of Blessed Sacrament
ChristLife - Evangelism, renewal, Christian unity
Catechism of the Catholic Church
Corunum Catholic Apologetic Web Page
Crown of Thorns - Hand made products from the Holy Land.
Greetings to the Blessed Virgin by St. Francis of Assisi
Et Cum Spiritu Tuo's Online Catholic Prayer Book
Prayer to St. Joseph over 1900 years old on
cyberCatholics.com - Roman Catholic, Catholic, Jesus, Christian, Roman, Church, Priest, Roman Catholic Priest, cyberCatholics, Cyber, Pope, Mary, Jesus, God, Trinity, Father, Son, Holy Spirit, Catechism, Priest, Seminarian, Online, Poll, Mega, Links, Politics, Comics, Diocese, of, Lafayette, Baton, Rouge
Eternal Word Television Network
Marian Links and Catholic Resources
Legion of Mary - Unofficial home page
Marians of the Immaculate Conception
Jubilee 2000 (includes Incarnationis Mysterium: Bull of Indiction of the Great Jubilee of the Year 2000 - Tertio Millennio Adveniente: On Preparation for the Jubilee of the Year 2000 - Prayer of His Holiness Pope John Paul II for 1999: in preparation for the Great Jubilee of the Year 2000 - Prayer of His Holiness Pope John Paul II: for the Celebration of the Great Jubilee of the Year 2000 - Jesus Christ, the Only Saviour of the World: Bread for New Life - Basic Text for the 47th International Eucharistic Congress to be held in Rome June 18-25, 2000 - The Great Jubilee of the Year 2000 - Year 1997: Jesus Christ - The Great Jubilee of the Year 2000 - Year 1998: Holy Spirit )
Queen's Chinese Catholic Community (QCCC)
Basilica of the National Shrine of the Immaculate Conception
New American Bible - Most common version - also Readings.
The Rock! Catholic Links (with prayers)
Our Lady Of The Holy Spirit Center
Parish of St. Ann, Ridgecrest, CA
sacredheart.com Catholic Bookstore
Saint Ann's Solemn Novena Prayers
Towards the Goal - an Irish site inviting consideration of the priesthood
Catholic Apologetics - Keys, Continuity, FAQ
The Word Among Us (includes Meditations, Prayer, Saints & Heroes, Witnesses of the Faith
Crossing The Threshold of Hope
Retrouvaille . . . a Lifeline for Married Couples