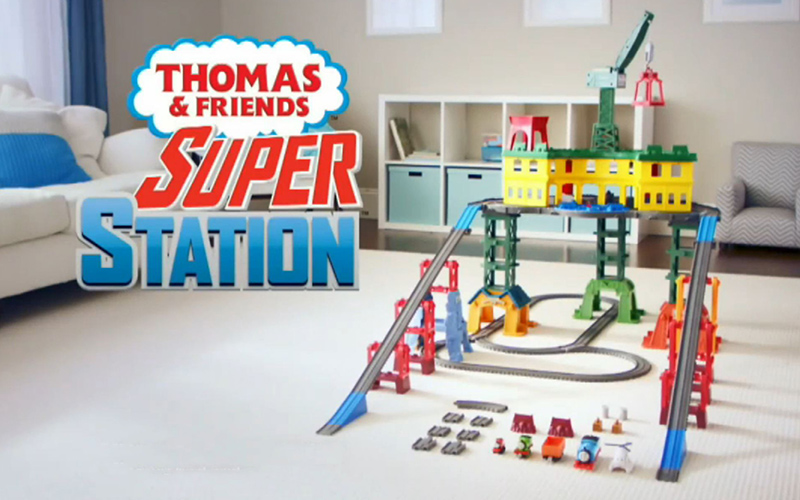 Thomas and Friends Adventures, TrackMaster, MINIS and Wooden Railway engines all in the same set: the Thomas and Friends Super Station features tracks that work with all these systems. Layouts can be changed to fit any space, and the set's height and width makes it effortless for for children to come together and play with siblings and friends. It comes with Thomas (TrackMaster), Percy (Thomas and Friends Adventures), James (MINIS) and Harold. Best of all, with this set, children can also use any engines they already have. The set also holds over 100 engines. It's the ultimate Thomas and Friends track set.
The Thomas and Friends Super Station enables them to race their engines, too. When the Super Station is played with in the Racetrack layout, children can race their engines down the long track to the bottom. When switched to the Dual Racetrack layout, two side-by-side tracks open up a world of excitement. Just choose your engines, place them at the top and let them go to see which gets to the bottom first. Will the MINIS outrace TrackMaster? Can the Wooden Railway beat Thomas and Friends Adventures? Play with a friend for added fun, racing over and over again to see which engine wins the most.
Super Station can be set up in up in multiple layouts, to fit any space and play pattern. The Compact layout allows for a lot more track – perfect for floor play. If you have limited space, the legs can be removed for a Micro Layout. The Racetrack layout lets you zoom your engines down the track, and the Dual Racetrack layout provides side-by-side racing action that you can share with a friend. You can also add and extend track in various directions to expand your fun.
Comes with Thomas and Friends TrackMaster Thomas, and his friends Thomas and Friends Adventures Percy, Thomas and Friends MINIS James, plastic Harold. Multiple configurations of layouts to fit into any space. Also holds over 100 engines. Remove legs for Micro layouts to fit small spaces.
Super Station is connectable to other sets. Track adaptor pieces allow you to connect the Super Station to tracks and playsets from Thomas and Friends Adventures, TrackMaster MINIS and Wooden Railway, so you can make Super Station part of a larger world of play and imagine everything from very busy days on Sodor to epic adventures.