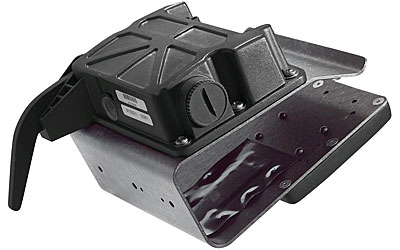 The SaviTrak information network is tracking the first commercial shipments of consumer product goods from from Asia to America. Savi Networks and Mitsui are providing real-time information and logistics services.
The shipments, currently on the water, are proving the commercial benefits the network brings to major consumer goods suppliers in meeting and exceeding RFID compliance mandates while improving security, logistics data accuracy, visibility, and the operating metrics of containers and their contents. The information services are provided on a per-container trip basis.
An innovative aspect of the project is source tagging of cases with EPC-compliant passive labels at the manufacturing facility, and tagging the containers they're stuffed into with active RFID tags. This is called nested visibility, and enables the customer to automatically build the container manifest, and then automatically track the container and its contents along its end-to-end journey.
Shipments originating at a factory are trucked to and placed on vessels. Then, they are shipped over the ocean to a port and are transported to a distribution center.
The initial phase of the solution is designed from the supplier's perspective.
By leveraging innovative, standards-based technologies, users will gain business value and competitive advantages with the latest, advanced and proven technologies.
By linking data from EPC-compliant passive Symbol Technologies RFID labels on cartons and cases to information stored in and transmitted by Savi Technology's ISO-compliant active RFID tags affixed to cargo containers, users have real-time visibility of container shipments and their contents at the same time.
Tagging EPC-compliant labels at the source factory provides a more cost-effective means than further downstream in the supply chain, and enables users to move beyond slap-and-ship compliance programs to gain economic benefits within their own supply chain.
The sense-and-respond network, combined with automated event-and-exception driven alerts, provides real-time information and reports on the location, status, and security of shipments as they move through the supply chain.
The program is deploying several types of active RFID tags, including Savi Technology's latest advanced Savi Tag ST-676 ISO Container Security Tag, which clamps onto the container's door and communicates the container's identification, contents, location, security status and interior environmental conditions to the network.
Savi Networks operates a global information network based on active RFID equipment and software.
Mitsui USA is engaged in import, export, offshore trade, and domestic wholesale.