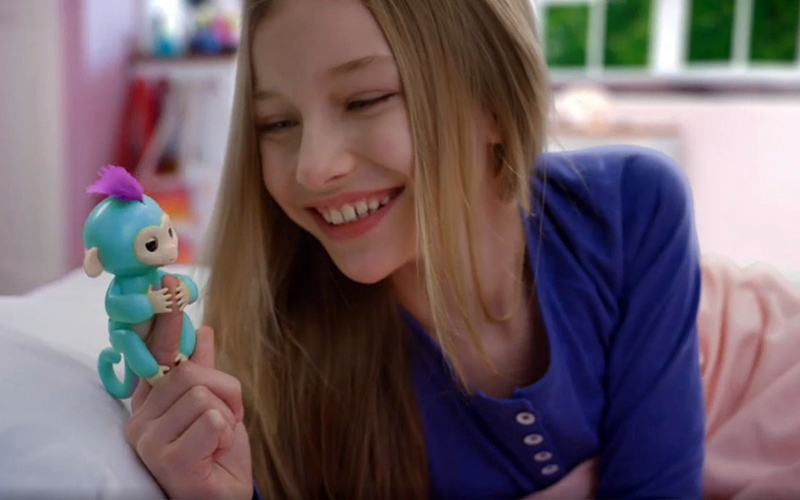 Fingerlings are the cutest baby monkeys. They go wherever you go. Rightside up or upside down, they love to monkey around. Pet them, Swing them, Rock them to sleep, Hug them, kiss them, fast asleep. Friendship at your fingertips. From WowWee. They never let go.
They love to grab onto things… especially your fingers.
Fingerlings respond to sound, motion, and touch with blinking eyes, head turns, and silly monkey babble.
Blow them kisses and they will kiss you back.
Hang them upside-down by the tail and watch them monkey around.
Pet them to sleep or make a loud noise and watch them get excited.
They love holding onto your finger and know when they are being pet, talked to, and even hung upside down. Fingerlings are adorable baby monkeys that are curious about the world around them—starting with you. These interactive pets love to hang onto your finger, blink their eyes, turn their heads, blow kisses, swing by their tails, and talk in monkey babble. They come in a variety of colors including white, black, pink, purple, blue and turquoise. Adopt them all and have even more fun monkeying around. Clap your hands twice and your Fingerlings will sing together - Collect them all.
With Fingerlings, fun is always close at hand. These miniature baby monkeys cling to your fingers and go where you go. They're full of hugs, love and mischief—all they need is your care and attention. They react to sound, motion and touch, make fun little monkey noises, and move in ways that will make you squeal with delight. Friendship really is at your fingertips.
With over forty animations and sound effects, these adorable newborns are a lively bunch. Clinging to your finger is only the beginning. They also make kissing sounds, chatter away in monkey babble, open and close their eyes, hang by their tails and more. Discover all of the fun, wild and wacky ways that they respond to your touch and voice.
Swing Them - These little babies are monkeys after all, and they love nothing more than hanging by their tails. See what responses you activate when you turn their world upside down.
Pet Them - Give your baby monkeys some tender loving care, and they'll soak it right up. From soft cooing sounds to happy eye blinks, you'll see that a little love can go a long, long way.
Rock Them to Sleep - Baby monkeys need their naptime. Cradle them in your hands, rock them to sleep and watch them drift off to dreamland.
Fingerlings owe their existence to two loving parents: Research & Development. Part of WowWee's award-winning line-up of interactive toys: CHiP, MiP and Robosapien. Fingerlings are big on personality, even if they are pint-sized.